Remaining Registration Fees - Action Required
---
---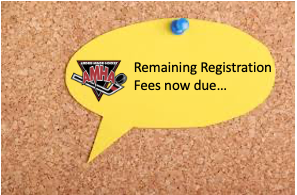 ---
NOTE:
If you are an "Import player" meaning that you don't normally play for Airdrie, but you made one of our AA teams, then please ensure you select the applicable "AA Import Remaining Fees" package.
If you made the U18 AAA Bisons, U16 AAA AC Avalanche, U16 AA Havoc or the U15 AAA Xtreme disregard as you will be paying your team directly.
---
Please log into your RAMP account via the AirdrieMHA RAMP Registrations, select your player and then select the applicable "Remaining Fees Package".
For example:
If your player made the U13 PeeWee Tier 3 team they are in the U13 Division, which will populate based on your players age, and the stream is U13 PeeWee Competitive Tier 2-5 Remaining Fees, so please select that option only.
Next you will be taken to the Parent info page which should mostly self-populate and then the last page of the registration will be the payment page.
This is where you would see any credit you have from last season's fees if you elected to leave the funds here with AMHA. It will also list what is owing for the balance of the season. You can choose to pay in full or pay over 3 payments starting on the day you complete the registration, November 1 and November 15. If you have a credit, it will come off the last payments.
For example: If you are selecting the U15 Bantam RHL Remaining Fees package, it will list that you owe $755 and that can be paid in full or over 3 payments:
- $252.00 on date of Registration
- $251.50 on Nov 1st
- $251.50 on Nov 15th
If you have a credit from last year in the amount of $490 then you will still pay $252 at the time of registration and on November 1st you will only pay $13 and nothing on November 15th.
---
IMPORTANT: This registration must be completed before October 15th or your player may not be able to play. Please call the office if you need to make special arrangements.
If after you have completed the registration, you still have a credit balance, you can elect to leave it in your RAMP account for next year's registration or we will process an e-transfer to you after November 15th.