---
---
HEAD COACHES / ASSISTANT COACHES / GOALIE COACHES
If you are interested in being a Head Coach/Assistant Coach/Goalie Coach or Trainer this season, please follow the steps below:
1. Select to be a Coach/Assistant Coach/Goalie Coach/Trainer from the list of Volunteer positions in the Player/Participant Registration when registering your player.
2. After you have completed your Player Registration then go back to the RAMP dashboard and complete the Coach/Staff Registration.
3. Later in the summer, you will be contacted by an AMHA Board Member with further details.
Coaching Requirements
Before your first ice time, all AMHA Head Coaches, Assistant Coaches, Goalie Coaches and Trainers must have the Respect In Sport Activity Leader course completed and provide the AMHA office with an acceptable RCMP Criminal Record Vulnerable Sector Check (CRC) that has been completed in the past 3 years. If you are unsure if the CRC that we have on file has expired or not please go to your Spordle Account (how to below) and under the Dashboard click on the Members Icon and your profile will pop up. Click on CRC and you will see what date your CRC will expire.
The RCMP building is open from 9am to 4pm, Monday through Friday, excluding Statutory holidays, so if you need to obtain an updated CRC and can't make it into the office you can still send a request to: KAirdrieServices@rcmp-grc.gc.ca advising why you require one. Also let them know what your position is with Airdrie Minor Hockey - Head Coach, Assistant Coach, Goalie Coach or Trainer and that you will be in a position of authority or trust over vulnerable persons (i.e. Children). Also include a copy of the Criminal Record Check Letter for RCMP with your name added to it so that there will be no cost to you for the CRC.
Upon receipt of your email, the RCMP will send you the correct forms to complete with instructions.
In the event that you are required to be fingerprinted for your CRC, you will have to go into the RCMP office as this can not be done online.
Once you get the completed CRC back from the RCMP please email a clear photo of it to one of us in the office at:
Also please visit the Hockey Alberta website to see what the requirements are for each level of coaching. Coaching courses need to be completed by November 15th.
The website also provides you with locations and dates to obtain the courses, some courses may require online and on ice sessions to complete the course.
AMHA will reimburse you for all courses/clinics that you successfully attend and pass.
Hockey Alberta Coach/Manager Discipline Handbook
Please use this link as an online resource to learn the responsibilities of coaches and managers related to suspensions, sanctions and game sheets.
Hockey Canada E Hockey Account for Coaches changed this year to HCR 3.0 Spordle
Here are some instructions to help you find your old E-Hockey information in the new platform.
Select the Login in the top right corner

This page will come up: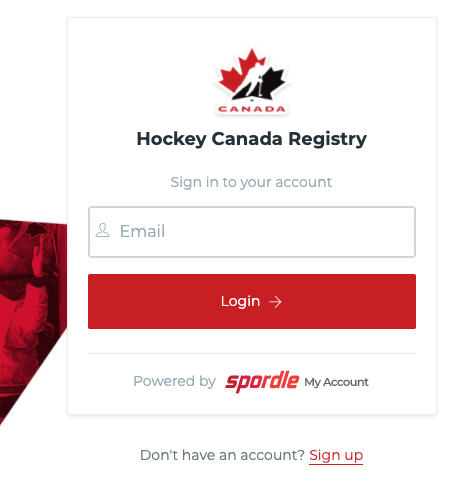 4. If you don't have an account yet, go to the " Don't have an account? Click "Sign up"
5. Follow the instructions to create an account, you will be asked to give a verification code that will go to your email and to create a password, etc.
6. You can then sign in.
7. Click on the person icon in the top right hand corner.

8. Click on "My Account"
9. Click on the "link a member"
10. Type in your name and birthdate and then in the drop down it will ask you what type of member you are linking - choose "self"
11. You now can click on your name and you should be able to see your Hockey Id# and your qualifications.